On my walk to work this morning, Tower Bridge opened before my disbelieving eyes: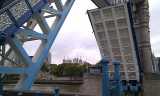 Not the sort of delay I had on my commutes in Ireland!
My employer has been taken over by McGraw-Hill. They don't use Python or indeed do much in-house development. My team and I appear not to have a long-term future. Time to consider my next move.